| | |
| --- | --- |
| Orig. Price: | $24.95 |
| Sale Price: | $19.97 |
| Availability: | in stock |
*Note: The watermark on the picture will NOT appear on your script.
ANNIE
Starring and Signed X4 by:
Albert Finney.... Daddy Oliver Warbucks
Carol Burnett.... Miss Hannigan
Tim Curry.... Rooster Hannigan
Bernadette Peters.... Lily St. Regis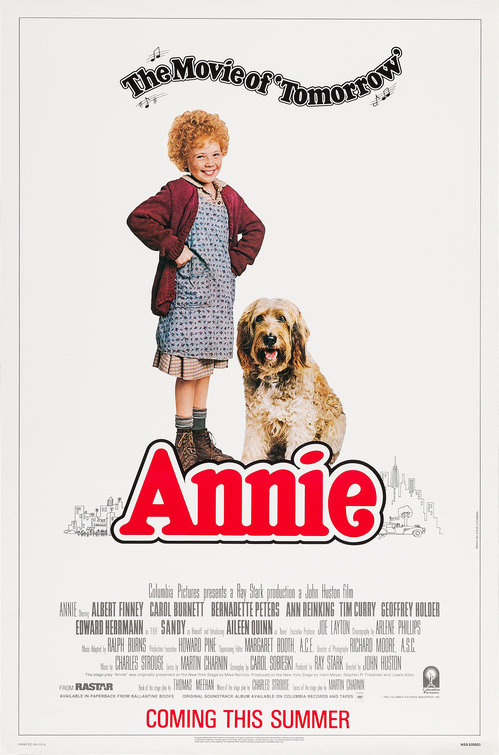 Annie: In the depths of the 1930's, Annie is a fiery young orphan girl who must live in a miserable orphanage run by the tyrannical Miss Hannigan. Her seemingly hopeless situation changes dramatically when she is selected to spend a short time at the residence of the wealthy munitions industrialist, Oliver Warbucks. Quickly, she charms the hearts of the household staff and even the seemingly cold-hearted Warbucks cannot help but learn to love this wonderful girl. He decides to help Annie find her long lost parents by offering a reward if they would come to him and prove their identity. However, Miss Hannigan, her evil brother, Rooster, and a female accomplice, plan to impersonate those people to get the reward for themselves which put Annie in great danger.
DESCRIPTION:
The script is in it's entirety and is actually from the movie as written by the writer. As with any script, there may be some slight differences between the script and what is shown on screen; this is absolutely normal. We will always try to make sure you get the latest draft available. The script itself measures 8.5" x 11", 3 hole punched and includes the Hollywood standard double brass plated fasteners to secure it together. As a bonus we also attach 2 heavy card stock covers on the front and back to protect during shipping and regular use to preserve your script.
The autographs on the cover are color reprints of the original authentic signatures using state of the art digital laser-guided technology for the highest quality and clarity. They look amazing! We guarantee our reprints are from authentic originals and never from home-made fakes. Please send us an email if you need further clarification of what a reprint is.
The signatures are in excellent condition and are a great collector's item for a fan or if you ever wanted to know how a script is actually written. Also it is a unique and valueable gift for family or friends who are fans. It looks great on a shelf, on the coffee table and even framed on the wall. This item is not sold in stores and is exclusive to us (and you).